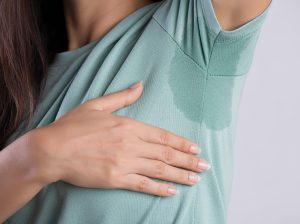 If sweating of the underarm affects your daily life, to extent that you get embarrassed of lifting your arm in public, reluctant to shake hands or stains forming on your clothes because of perspiration, it means that you have a problem.
Botulinum toxin has been used effectively and safely for many years in solving this problem. Botulinum toxin directly affects the sweat glands hence reducing sweating by suppressing the chemical that stimulates the sweat glands from the nervous system. Treatment is done by injecting Botulinum toxin into the skin of the region (underarms, palms, soles of the feet). The effects of the treatment are felt after one week. Scientific studies have proven that Botulinum toxin treatment is effective in 94% of the patients with 83% sweat reduction.
Does sweating in other parts of the body increase after treatment of underarm sweating with Botulinum toxin?
No there is no change in the amount of perspiration in other body parts.
How long is Botulinum toxin treatment of sweating effective?
The effect lasts between 7-9 months
Who is a good candidate for Botulinum toxin treatment of excessive sweating?
Patients who do not benefit from other anti perspiration treatments are suitable candidates for Botulinum toxin treatment.